Official Korn Ferry Tour Championship Putting Mat
Practice like a pro,
Play like a pro.
Reviewed by PGA pros, coaches & players
Putting green of choice by top players, coaches, tournaments, and fans

Named the #1 putting green of 2023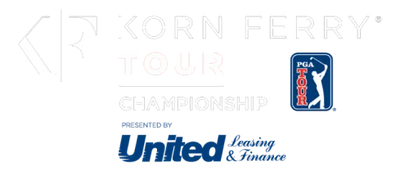 The quality of the mat and how it rolls feels just like the PGA turf.
"The speed is spot on for me with it being similar to what I play on Tour. This product has helped me improve my game and I'm confident it will improve yours."

Sean O'Hair
4x PGA Tour Champion Verified Customer, Not Sponsored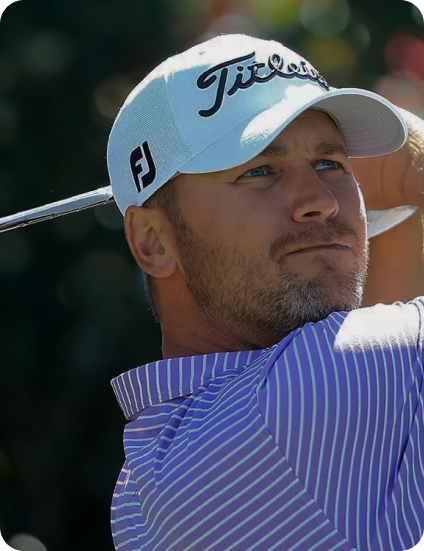 What golfers say?
"Rolls very good and is a tour-speed putting mat. One of the best I've used."
"I was amazed at how good the putting surface was, especially the speed. The ball rolled very true, and received instant feedback on how the ball was coming off the face of the putter. I look forward to using the Prime Putt mat in our daily practices."
"The quality is phenomenal, and I have to say it replicates what it's like out on the course. I'm trying to improve my game to get to the next level, so I want something as close to real course conditions as possible."
"The PrimePutt practice putting mat is an outstanding surface for any indoor putting practice. A great piece of equipment that allows you to work on your putting anytime and anywhere"
Practice the same way the pros do
Easily move your turf around without ruining the integrity of the grass.Built to be stored away when you need extra space.
Practice anytime,
anywhere
Easily move your turf around without ruining the integrity of the grass.
Built to be stored away when you need extra space.
Tour-Grade Turf that mimics the feel of playing on the PGA fields.
Tournament Speed 9-11 Stimp Rating
PrimePutt is the putting mat for people that simply want the best.
Most of our users eliminate their 3- Putts, making more Birdies.
Practice makes perfect, with the mat being so accessible you get in a lot more hours than your friends, putting you ahead of the rest.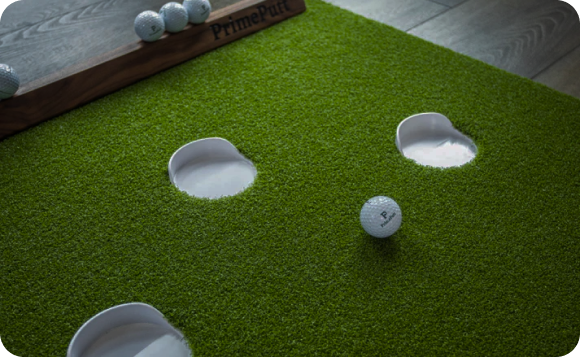 Frequently
Asked Questions
What are PrimePutt indoor putting mats made out of?

We designed our putting greens alongside turf and material science experts to develop a Nylon turf that is the closest imitation of real grass possible.
How long does it take to get my products?

Domestic shipping can take up to 5 business days. Due to global supply chain challenges, shipping times could be longer than usual.
What is the return policy?

We guarantee you'll love our products. If for some reason you're less than satisfied, send it back within 30 days of purchasing, and we'll refund you at no cost.
Is an indoor putting green like putting on real grass?

Yes! There is nothing closer to real grass. Our putting mat design is the same as what's installed in the homes of PGA pros, the offices of the leading golf brands, and the leading golf retail stores.
How fast does the putting green roll?

Our mats roll at 10-12 on the Stimpmeter without the need to brush, vacuum, or iron ever. Additionally, every PrimePutt putting mat rolls true and naturally right out of the box.
How durable are your putting greens?

Unlike others, our putting mats are extremely durable. With pets, kids, or extended use, our putting mats were designed to be used and abused!
Can I use PrimePutt mats outdoors?

Yes! Our materials are the same as those used on outdoor practice greens. If you want to keep it in prime condition for the long run, though, we recommend storing it indoors.
How do I care for my putting green?

Our mats are very low maintenance and do not require any standard care to maintain their performance. Some customers may choose to vacuum them once occasionally to remove dirt or dust, but this isn't required.
How do I store my putting green?

Unlike some turf that can be creased out of the box or when it interacts with heat—or, worse, felt-based putting mats that wrinkle or slip—PrimePutt lays flat out of the box and after every roll-up. Because it comes with its own rubber backing and is meant for multi-surface use, there's no need for additional fuss like infill, tape, or weights to keep it set the way you need it. Unroll, lay it out, practice your short game, then roll it back up, and put it away. The next time you need it, it'll be just as good as new.
Why should I buy PrimePutt putting mat?

PrimePutt was founded to address a gap in the market for high-quality, realistic putting mats. Our products are created by golfers for golfers who demand the highest quality out of their putting mats in order to build the transferable skills needed on the greens.

To meet that expectation, we've spent hundreds of hours building, testing, and observing the products on the market in order to understand the pain points of golfers purchasing a putting mat for various use cases. When you invest in a putting mat, we believe you should always get more than your money's worth.
Experience the PrimePutt difference
MADE IN THE UNITED STATES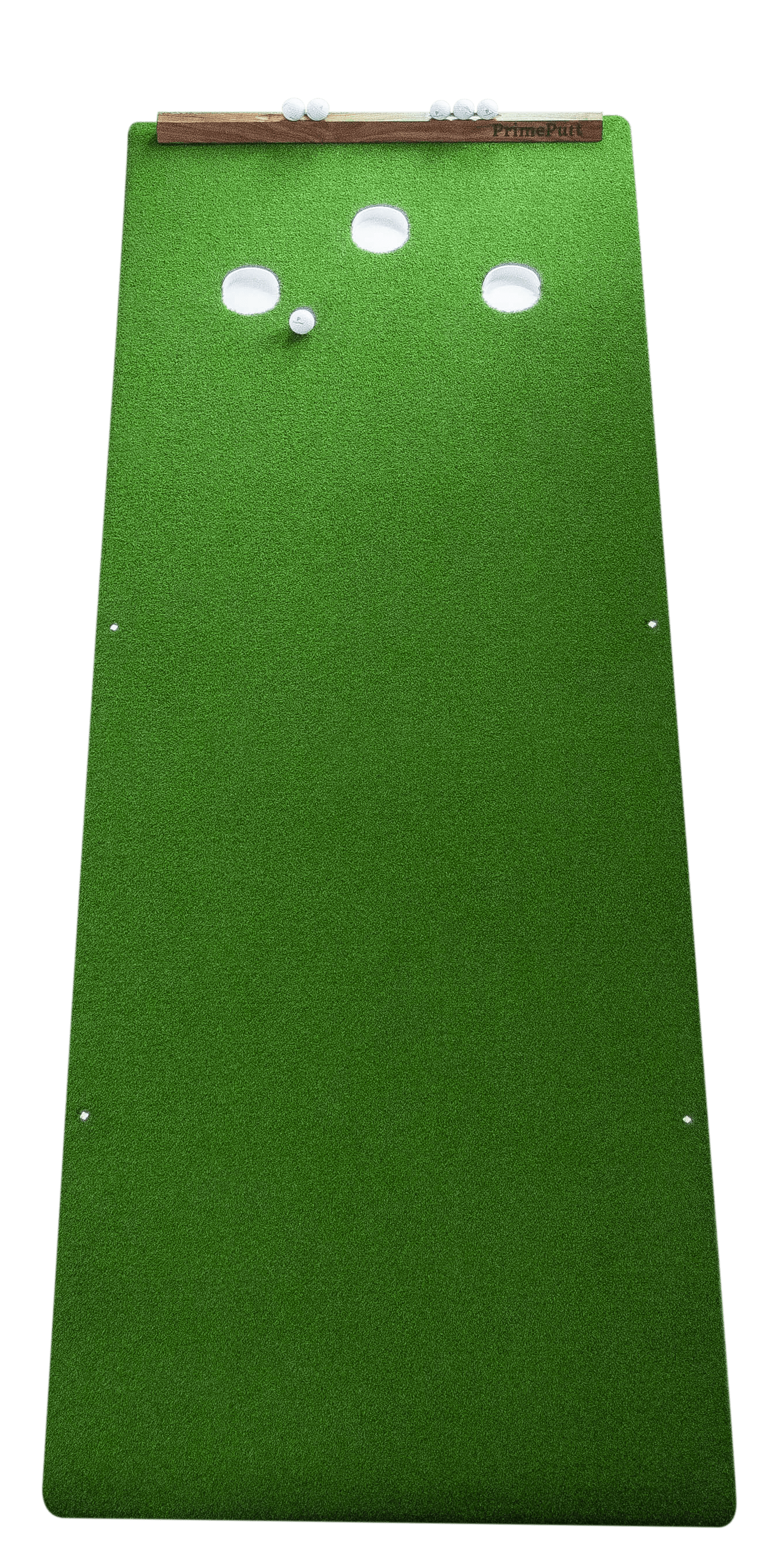 Other mats

Comparison based on indoor putting mat products

Realistic feel
Materials

Tour-grade turf

Carpet or foam

Hitting surface
Durability
Ball reaction
Shock absorption
Weather resistance
Non-toxic materials
Each PrimePutt mat purchase includes a free swing analysis by a PGA Professional.
Improve your game with the PrimePutt Pro Staff.
Make 20% more putts in as little as 2 weeks.
True-roll, true-speed: tried, tested, and true
Give the gift of
lower scores
Looking for a memorable gift for the golf enthusiast in your life? Our premium putting green makes an extraordinary present that will bring joy and excitement. Whether it's for a birthday, anniversary, or just to show appreciation, this exclusive gift selection is sure to impress.
GIVE THE GIFT OF LOWER SCORES