Tour-Quality Indoor Putting Mat
Regular price
$389.00 USD
$389.00 USD
Regular price
$429.00 USD
Sale price
Unit price
per
Limited time offer
As low as $/mo at 0% APR
Free US shipping | 30-day money back guarantee
Guaranteed to Improve Your Score
Made By Golfers, For Golfers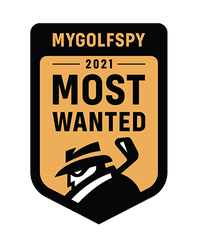 "The roll is unmatched. PrimePutt is the way to go."

MyGolfSpy, voted Best Indoor Putting Green of 2023
Lower your score and increase consistency by practicing daily on a quality, tour-grade turf mat that offers a true roll with a 9-11 Stimpmeter reading and the most realistic experience you'll find anywhere outside a real course.

Details

Engineered for at-home practice to master skills that translate to the course. 
Designed to fit spaces of any size, from living rooms and offices to studio apartments. 
Durable, easy to store and set up, and immediately lays flat and is ready to use.
Uses premium materials like FSC-certified walnut and the same plastic as regulation golf cups.
Dimensions

Mat Size: 3 feet x 9 feet
Mat Thickness: 1/2 inch
Max. Putt Length: 8 feet
Cup Size: Regulation (4.25 inches)
Speed: (9-11 stimpmeter rating)
What's Included

• Tour-grade turf mat that gives the same feedback as a grass green.

• Innovative multi-make cups that hold up to 3 putts in a row.

• Custom-engineered backstop that keeps missed putts out of the way. 

• Alignment aids at three-foot intervals that let you dial in your distances.
Setup & Care

Start practice in less than a few minutes. Simply open the box, unroll the mat, position the backstop, set up your cups, and start putting.
Shipping Information

• Free shipping on all U.S. orders.

• International (Non-US) orders subject to shipping, customs, and import fees.

• Your shipment will be delivered within 3 to 5 days of purchase.
Description

Bar none, our PrimePutt putting mat is the premium indoor putting mat designed for golfers, by golfers. We know how important putting is to lowering your scores, so we set out to create the most realistic, high-quality putting mat on the market. In doing so, we dedicated months of research alongside turf-grass experts, material scientists, and PGA professionals to find the closest surface to a real grass putting green.

Our tour-grade nylon turf material guarantees the most realistic feedback of any other putting mat, which is why PGA tour pros and golf experts everywhere use it. Regardless of skill level, PrimePutt offers the perfect practice surface for golfers looking to lower their scores and build short-game confidence. And no matter what home or office space you have to dedicate to your practice time, our various sizes provide the flexibility to fit any area and practice any distance.

Even better, PrimePutt's proprietary cup design guarantees you'll never have a putt blocked by another ball. At the same time, these innovative cups perfectly replicate full-depth golf cups: the misses miss, and the makes go in. For setup, our specially-designed rubberized bottom and no-memory material mean the PrimePutt mat lays flat and doesn't move right out of the box every time. These same materials lend incredible durability to our putting mats, so you can use yours indoors or outdoors, putt with the kids, and let the dog walk over it—still rest assured that your PrimePutt indoor putting mat will last a lifetime.

All told, our mat is just what you need to start making more 5'-8' footers, stop three-putting from longer distances, and start lowering your score today.
View full details
Named Best Putting Mat of 2023 by MyGolfSpy
With our high-quality mat's roll-true technology and a Stimpmeter of 10, you can make that dream a reality. Indoors, outdoors, at home, or in the office, practicing with our putting mat for only 10 minutes a day will take your short game to the next level.
Putt Like a Tour Legend
Build game-changing confidence and turn putting into the best part of your game.
No other mat replicates a real green like our tour-grade turf.
No bunches, curls, or humps to disrupt your shot means you know when you put a good stroke on it and know what you need to work on.
Our proprietary cup design behaves just like a full-depth cup. Misses miss just like on the course, allowing you to pinpoint improvement areas.
When it comes to short-game practice, putting mats need a consistent speed. Our turf is highly controlled to roll true and fast all day, every day.
Pet-friendly, kid-tough, outdoor-approved materials that store away easily to let you practice without worrying about wear and tear.
Rolls True on Any Surface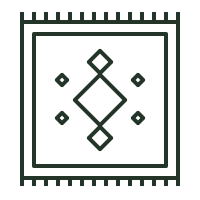 Carpet
Standing pad recommended
Tile & Stone
Hardwood
Tested by golf pros for real practice for the real course.
Our proprietary turf mat rolls true with a Stimpmeter rating of 10 so you can make that dream a reality. Our mat is crafted from top-quality turf, ensuring that it will stand up to heavy use and provide a true roll every time. Putt daily on the PrimePutt Tour-Quality Putting Green and take your short game to the next level.
PrimePutt 30-Day Money-Back Guarantee
At PrimePutt, we stand behind our product quality and are committed to your satisfaction. That's why we offer a 30-day money-back guarantee.
No matter your skill level, we're confident that you'll love our product and see the results in your game. Our product is meticulously tested, stored, and packaged, but in the uncommon case of a manufacturing defect, we will gladly accept returns and exchanges. For more information, please review our full return policy.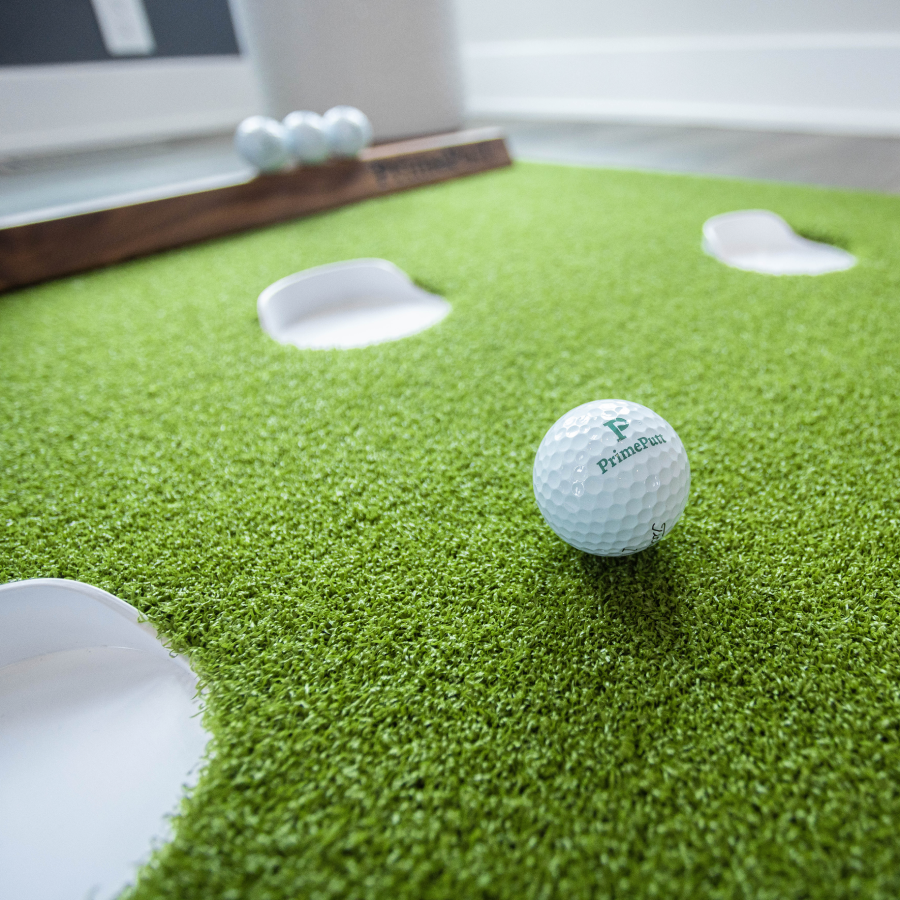 Ultra-realistic Tour-grade turf
Our premium 1/2" nylon turf provides the most realistic experience you can get without stepping on a golf course. And, due to our innovative roll-flat technology, you can use your PrimePutt indoor putting mat on any surface in your home without sacrificing roll quality or feedback.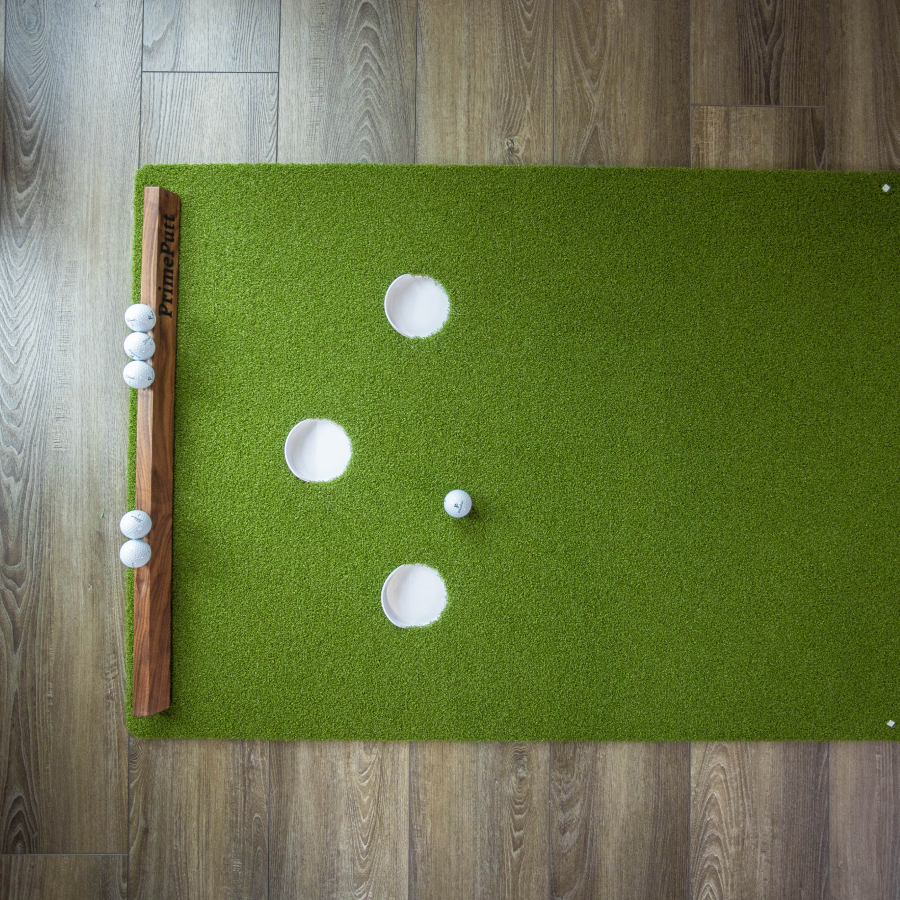 Seamless storage to setup
Set up in minutes straight out of the box, and our no-memory material guarantees a smooth, even putt every time. When you're done, storage is just as easy; simply roll up your mat and tuck it back in the box until your next practice session.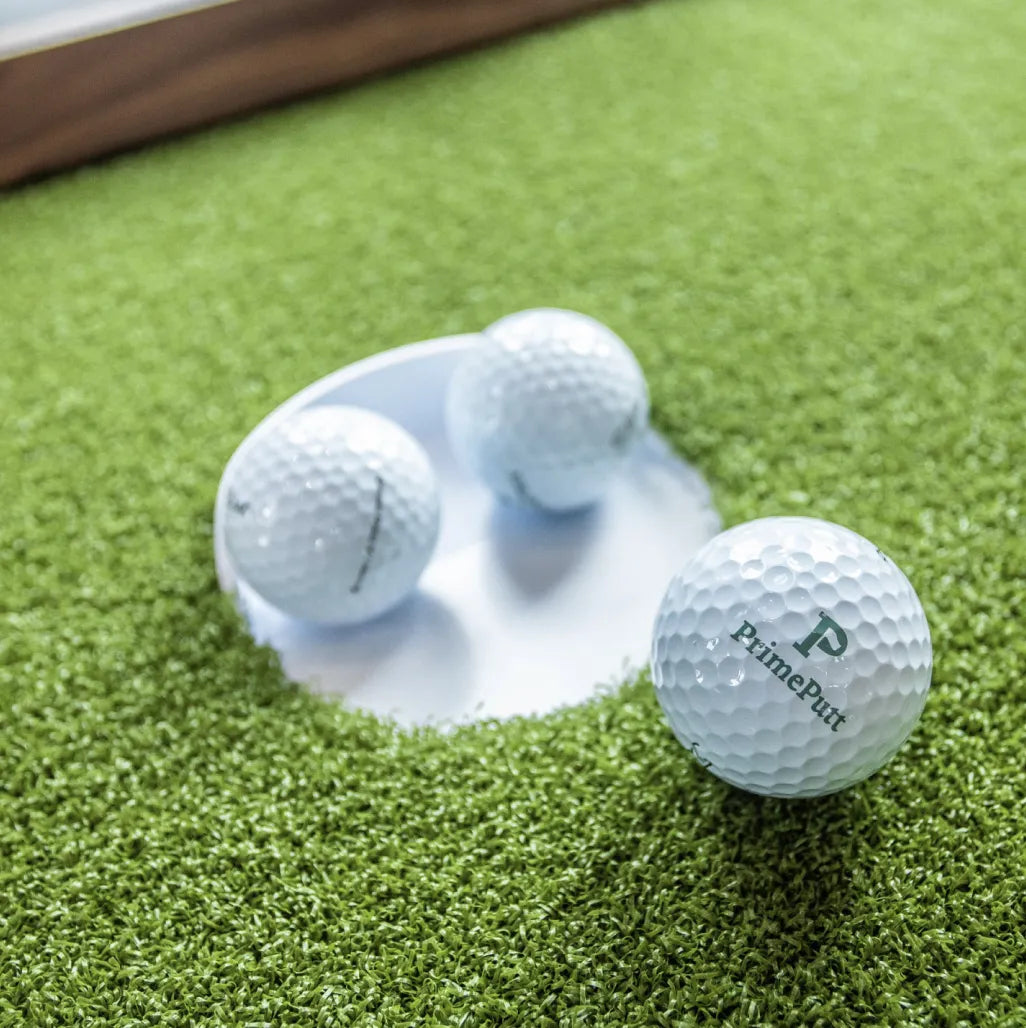 Game-changing cups
Unlike other indoor putting mats, which require you to cut or resize the cups, our cup design perfectly recreates the experience of a full-depth cup, allowing you to sink up to three consecutive putts before clearing. We rigorously tested this design against traditional, full-depth holes to ensure the misses miss, the makes go in, and that your putting practice is as close to the real thing as possible.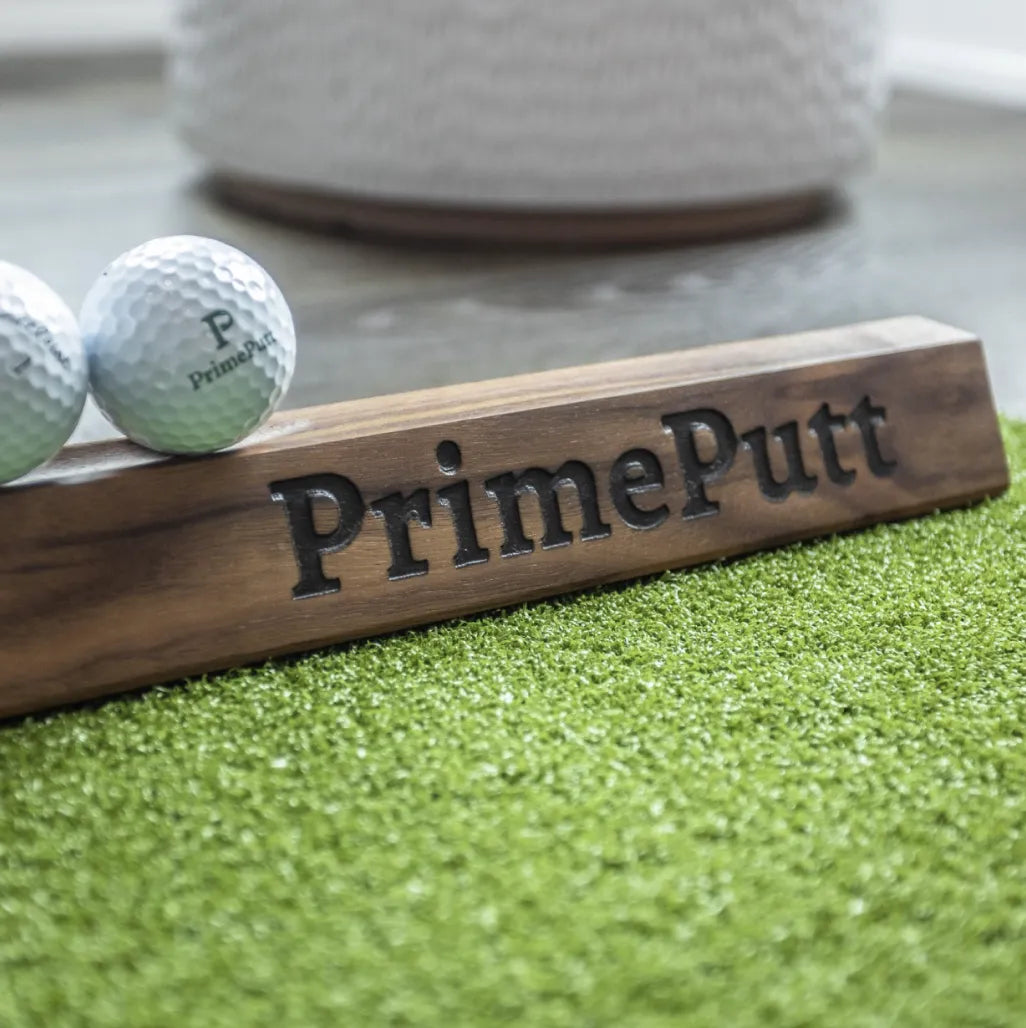 No-block backstop
PrimePutt's no-block backstop keeps missed putts from getting in the way of your practice. Made of premium hardwood and carefully designed to stop balls from bouncing back, it also features an added groove along the backstop's top edge to hold extra balls for longer practice sessions.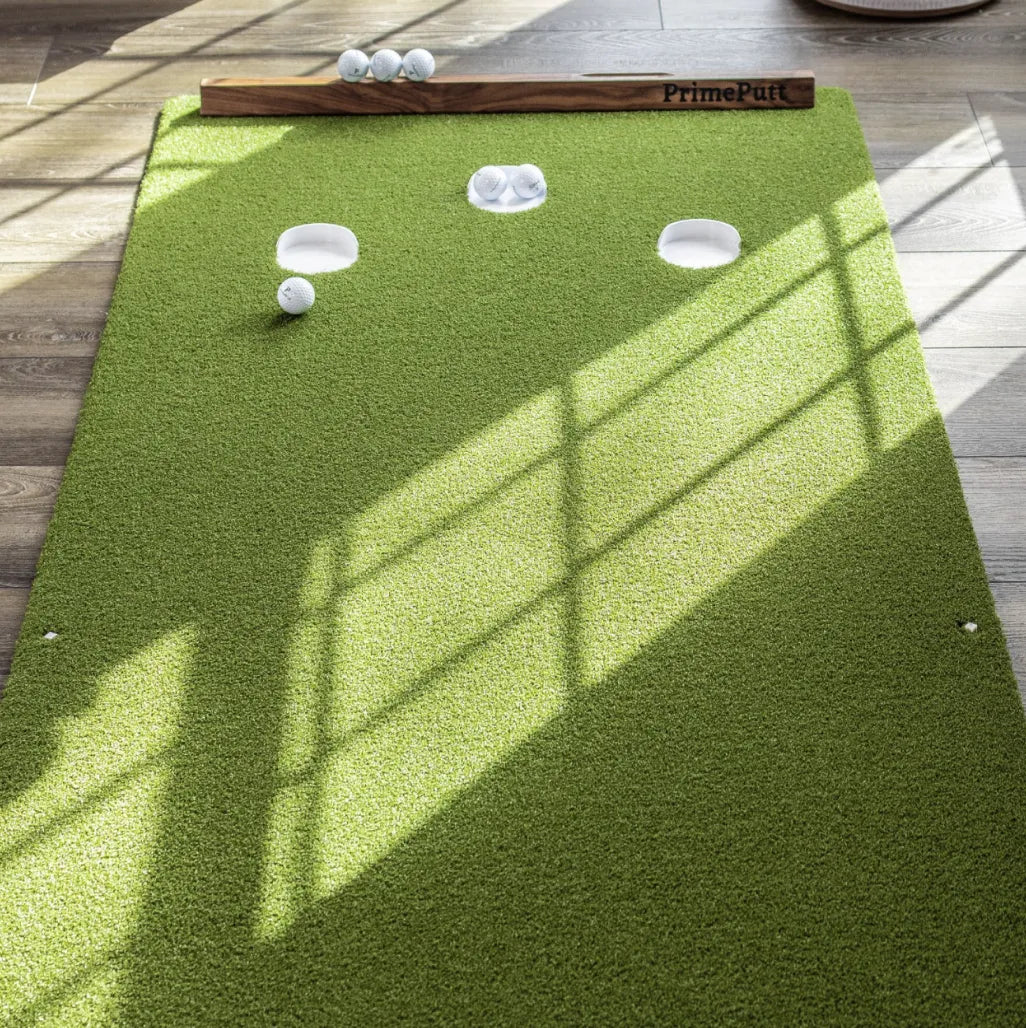 Crafted to last a lifetime
Our products are designed with the lifelong golfer in mind. Because of that, we've taken our time to source only the best materials and craft a premium product you'll keep with you for years. Whether you practice for ten minutes or ten hours daily, our indoor putting mat holds up to even the most avid golfer's practice schedule.
Order Your PrimePutt Today
Forces you to increase consistency by practicing daily.
Yours today for Just
$389.00
& Fast Delivery in the USA
Testimonials from our fans.

Verified customer
05, Oct 2022
"Rolls very good and is a tour-speed putting mat."
One of the best I've used.
Matt L.
🇺🇸 South Carolina
Verified customer
14, Sep 2022
"This is by far the best putting mat I've ever used. The material is so realistic."
Throw this putting mat in your house or office, and you'll get compliments non-stop. My wife gave me permission to leave this putting mat out because it's so beautiful.

Verified customer
17, Sep 2022
"I will be purchasing this for all the men in my life who love golf!"
Looks beautiful in our family room, and it's a perfect conversation starter when we have company. I love the wood accents - incredibly high-end and sleek.
Frequently Asked Questions
How long does it take to get my products?

Domestic shipping can take up to 5 business days. Due to global supply chain challenges, shipping times could be longer than usual.
What is the return policy?

We guarantee you'll be satisfied with our products. If, for some reason, you aren't, send it back within 30 days of purchasing, and we'll refund you at no cost.
What is the PrimePutt putting mat made out of?

We designed our putting greens alongside turf and material science experts to develop a Nylon turf that is the closest imitation of real grass possible.
Is an indoor putting green like putting on real grass?

Yes! There is nothing closer to real grass. Our putting mat design is the same as what's installed in the homes of PGA pros, the offices of the leading golf brands, and the leading golf retail stores.
How fast does the putting green roll?

Our mats roll at 10-12 on the Stimpmeter without the need to brush, vacuum, or iron ever. Additionally, every PrimePutt putting mat rolls true and naturally right out of the box.
How durable are your putting greens?

Unlike others, our putting mats are extremely durable. With pets, kids, or extended use, our putting mats were designed to be used and abused!
Can I use PrimePutt mats outdoors?

Yes! There is nothing closer to real grass. Our putting mat design is the same as what's installed in the homes of PGA pros, the offices of the leading golf brands, and leading golf retail stores.
How do I care for my putting green?

Our mats are very low maintenance and do not require any standard care to maintain their performance. Some customers may choose to vacuum them once occasionally to remove dirt or dust, but this isn't required.
How do I store my putting green?

PrimePutt was founded to address a gap in the market for high-quality, realistic putting mats. Our products are created by golfers for golfers who demand the highest quality out of their putting mats in order to build the transferable skills needed on the greens.

To meet that expectation, we've spent hundreds of hours building, testing, and observing the products on the market in order to understand the pain points of golfers purchasing a putting mat for various use cases. When you invest in a putting mat, we believe you should always get more than your money's worth.
Our Promise to You
Highest Quality Standards

Highest Quality Standards (100)

PrimePutt was founded to address a gap in the market for high-quality, realistic putting mats. Our products are created by golfers for golfers who demand the highest quality out of their putting mats in order to build the transferable skills needed on the greens.

To meet that expectation, we've spent hundreds of hours building, testing, and observing the products on the market in order to understand the pain points of golfers purchasing a putting mat for various use cases. When you invest in a putting mat, we believe you should always get more than your money's worth.

Money Back Guarantee

We stand by the quality of our product, but we also understand that your needs can change or our product might not be for you—and that's ok. If, for any reason, you're unsatisfied with your PrimePutt Putting Mat, we will refund 100% of your purchase. We want to support you wherever you are on your golfing journey, and if it's not time to integrate a multi-surface putting mat, that's perfectly fine.

World-Class Service

Next to our innovative products, our customer service team sets us apart. And, because we all understand how frustrating it can be to have unanswered questions or no product support at all, our team operates Monday to Friday from 9:00 am until 5:00 pm EST to help answer any questions by email, phone, or live chat.

Free Shipping on U.S. Orders

The putting mat you choose will vary in price depending on a multitude of factors: the type of surface of the mat, the quality of materials used, portability, or installment of the product. Large cuts of artificial turf — which could replicate a golf course green — can set you back hundreds or even thousands of dollars, which won't include shipping and might not even include delivery, depending on the type of building you reside in. We deliver your PrimePutt Putting Mat for free so that you have one less thing to think about when making your purchase.

Benefits of Using a PrimePutt Putting Mat
Most Realistic Putting Surface

There are many types of indoor putting mats available in the market, each with different sizes, shapes, and colors, and some mats are made with rubber, felt, foam, or plastic material to make them more durable.

We believe that practice only works when it builds transferable skills, which is why PrimePutt's putting mats are made to be the closest thing to putting on real grass. To achieve this feat, we worked with turf and material science professionals to create a putting mat on par with what can be found at a real golf course. This way, anyone can practice putting indoors and simulate true on-course conditions.
Innovative Cup Design

PrimePutt's indoor putting mat includes an elegant cup for draining putts. With three cups simulating three holes, this true-roll golf putting mat allows you to make more golf balls than your average golf mat. Our innovative cup moves any made putts to the back of the cup, clearing the way for your next perfect putt. In addition to this, a one-hole option is coming soon!
No-Block Backstop

Our engineered hardwood backstop guarantees not only to stop long putts from rolling off the back, but also to not bounce back or block your next putt. That way, you can keep practicing without losing your concentration and retrieve your golf balls when you're good and ready!
Stay Put Bottom

A lightweight, flexible rubber bottom guarantees to keep the mat in place without bulging or slipping, so your PrimePutt mat is ready to go when you are.
Use What The Pros Use 

If touring golf professionals practice putting on turf, why are so many putting mats made from carpet, felt, foam, or other unrealistic materials? PrimePutt's Putting Mats are what the pros use, but you don't need to be a pro to practice like one! We believe that if it's good enough for them, then you deserve to have it too, which is why our PrimePutt Putting Mat mimics the experience you have on real grass to supercharge your putting game.
Rolls True Every Time

PrimePutt's putting mats are the most durable green on the market, roll true every time with no maintenance required, and will hold up to daily use, all of which come together to give you a putting green in the comfort of your own home.
Portable And Storable

The PrimePutt Putting Mat weighs approximately 15 pounds, so it's easy to roll up, pick up, and move around from the office or room to room in your house. Being so lightweight, virtually anyone can put it away and retrieve it anytime they're ready to practice again.

This makes it great for the whole family and for entertaining guests. If you don't have a ton of room in your home when you're done practicing or entertaining, you can pack it back up and store it so it doesn't get in the way of your daily activities.
Always Lays Flat

Unlike some turf that can be creased out of the box or when it interacts with heat — or, worse, felt-based putting mats that wrinkle or slip — PrimePutt lays flat out of the box and will lay flat after every roll-up. Because it comes with its own rubber backing and is meant for multi-surface use, there's no need for additional fuss like infill, tape, or weights to keep it set the way you need it. Unroll, lay it out, practice your short game, then roll it back up and put it away: the next time you need it, it'll be just as good as new.
Key Considerations When Buying an Indoor Putting Mat
Roll

The way that your putter, ball, and surface interact can affect your whole game, which is why the surface of a putting mat is so essential for real results. If you're practicing on a surface that doesn't replicate the real thing, then the skills you learn won't be transferable when you get to the course.
Quality

If you're looking for a putting mat specifically for increasing your skill set, then you need one that replicates a real golf course and produces a true roll. Felt or other cheap, non-turf surfaces could hinder your progress or even build habits that worsen your short game.
Size

Our indoor putting mat is a compact 3 ft wide by 9 ft long, fitting most average hallways in homes, apartments, and offices, so you can easily incorporate it into any room. Even better, it rolls into itself, so it's easy to store and does not take up too much room beneath beds, in closets, or in storage compartments.
Price

With the right putting mat, you won't need to spend thousands of dollars at a golf course or spend ages on a waitlist for a country club membership. Luckily, our PrimePutt Putting Mat is for anyone who wants to learn golf without racking up expenses that get in the way of enjoying the game.
Durability

Depending on how eager you are to perfect your putt, you need an indoor putting mat that can keep up with your demand. With our highly-durable materials and sleek design, you can rest assured that each swing will be consistent and that your mat won't wear out over time. For those with other family members or children who also enjoy golf, the PrimePutt Putting Mat can hold up to even the most "enthusiastic" of golfers.
Portability

A multi-surface indoor and outdoor putting mat shouldn't be cumbersome to take and place where you need it to be. Conversely, installing an entire green in your backyard means you'd still be subject to weather conditions and would be limited to a single designed practice space. With a portable putting mat, however (one weighing less than 15 pounds at that!), you can easily shift or adjust your practice space at the drop of a hat.
Features

There are many different types of surfaces and designs of putting mats, all with the intention of helping you practice your game and enjoy the time spent doing so. While the features may all sound standard, the craftsmanship that goes into each detail can make a world of difference in your experience and enjoyment of the sport.

PrimePutt's Annual Women in Golf Scholarship
The Women in Golf Scholarship is a recurring scholarship open to all women and women-identifying students who play golf, whether for their school or simply for fun in their free time. The next deadline to apply is December 1, and winners will be announced on December 30.
Scholarship Award: $1,000
Learn More
About the Women in Golf Scholarship
Scholarship award available for both college and high school students.
At PrimePutt, we believe that golf creates a platform for personal development, skill enhancement, and camaraderie. However, we understand that women's representation and opportunities in golf have historically been limited. We hope to break down barriers and provide women with the support and recognition they deserve both in the sport and in their academic pursuits.
To celebrate the game and the women who play it, we're awarding a $1,000 scholarship to a student who plays golf in any capacity, either for her college team or just when she wants to relax and take a break from the stresses of school. Whether they are current high school seniors or already enrolled in college, we invite all women and women-identifying students with a love for golf to apply. The scholarship aims to alleviate financial burdens and enable recipients to pursue their education while honing their golfing skills.
We recognize the unique challenges that women face on and off the course and aim to create an inclusive environment for women who enjoy golf and are pursuing college degrees. We firmly believe that empowering women in sports leads to greater diversity, equality, and enhanced opportunities within the golfing community and beyond.PrimePutt is committed to creating a more inclusive and supportive environment that encourages women to thrive in the worlds of both golf and education.
How to Apply
Previous PrimePutt Scholarship Winners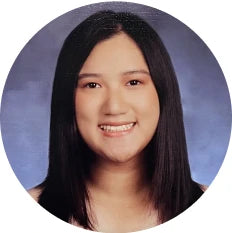 Breyana B.
Awarded: $1,000
On: April 1, 2023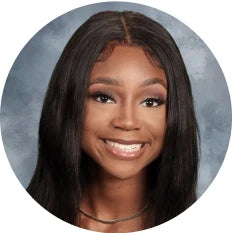 Kaila T.
Awarded: $1,000
On: Feb 14, 2023
Scholarship Details
Scholarship award available for both college and high school students.
Amount: $1,000
Winner Announcement Date: December 30
Application Deadline: December 1
Recurring: Annually
Scholarship Contributions to Date
Eligibility Requirements
Scholarship award available for both college and high school students.
A woman or woman-identifying person
Plays golf in any capacity
A high school senior, undergraduate student, or graduate student
Applicant must be a current U.S. citizen or permanent legal resident
How to Apply
You can apply for this scholarship on the Bold.org scholarship platform. Follow the directions and submit your application for the Women in Golf Scholarship, along with a short essay answering the following prompts:
Tell us about your golf journey — how did you start playing? How do you plan to continue to play?
Why is golf important to you?
A Trusted Choice Among Universities
Scholarship Frequently Asked Questions
When is the scholarship deadline?

The application will be open through December 1.
What is the scholarship prize?

The scholarship award is $1,000.
When will the winner be chosen and notified?

Prior to the announcement date, we may contact finalists with additional questions about their application. Recipients will be chosen based on the merit of their application.
How will the scholarship be paid?

The prize check will be sent to the scholarship winner's college institution in their name and in the name of their institution (depending on the school's requirements).
Is this a recurring scholarship?

Yes, the Women in Golf Scholarship is an annual scholarship.
How will my scholarship application be verified?

Before we award the scholarship, the winner will be required to verify their academic enrollment status by providing a copy of their most recent transcript.
How can I get in touch with questions?

If you have any questions about this scholarship, please email info@primeputt.com, and we will get back to you as quickly as we can.
How will my application information be used?

PrimePutt manages this scholarship with the support of the Bold.org scholarship platform. Bold.org takes student confidentiality and privacy incredibly seriously. Please refer to the application page on Bold.org for full details.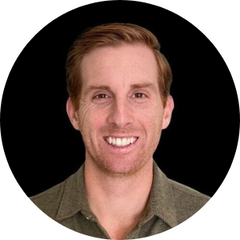 Steve
Founder
At PrimePutt, our mission is to nurture a deep love for golf and inspire both seasoned players and aspiring golfers to indulge in their passion to an even greater extent. With our cutting-edge tour-quality putting mat, we offer an opportunity for golf enthusiasts of all levels to engage in year-round play, practice, and enjoyment of the sport.