I started PrimePutt because I wanted to do more of what I loved - golf. After playing it with friends and family, it didn't take long for me to become obsessed. I love how it challenges you and how it helps you grow.
Golf became a form of therapy.
Then life got busy. I had children, new responsibilities, and a packed calendar. I needed to find a way to keep improving, even with less and less time. So I focused on the one thing that could really lower my scores and I could do any time of year, any time of day, in any size room: putting. I tried lots of different at-home putting mats, but none met my expectations for quality and feedback.
So I designed my own.
At PrimePutt we obsessed over every little detail, working with experts to innovate something as simple as a putting mat. We focused on the things that mattered most to golfers wanting to lower their scores:
Perfect feedback

Our mat is the closest thing to putting on real grass.

Developing good form

Build muscle memory by making putt after putt with our innovative cup design.

Lifetime durability

PrimePutt is a mat that will perform perfectly and last forever.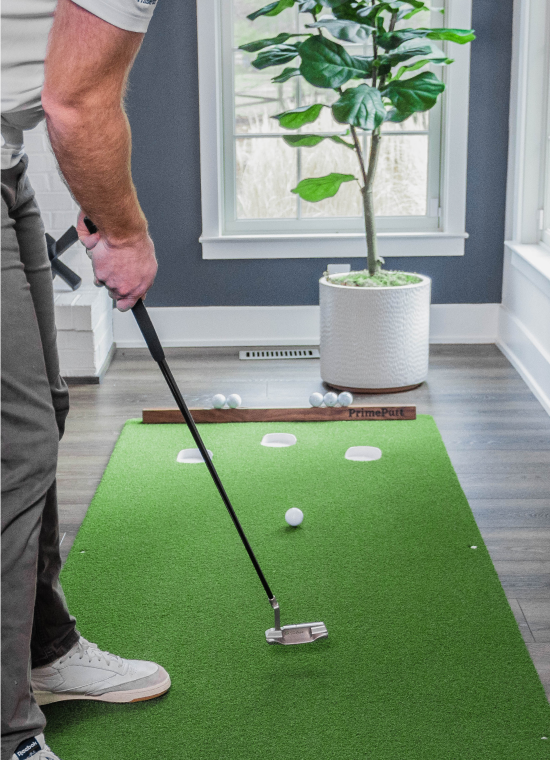 PrimePutt is for everyone
Golfers who can't get enough golf, golfers who want to lower their scores, golfers who want to practice on high-quality, trustworthy products, and golfers picking up a putter for the first time.That's why we designed PrimePutt around a single concept:
Design something simple. Make it passionately. Never compromise quality for convenience.
The journey wasn't easy, and we've come a long way. We're proud to offer our premiere putting mats and we're excited to see you to practice on it.
Get Started Today →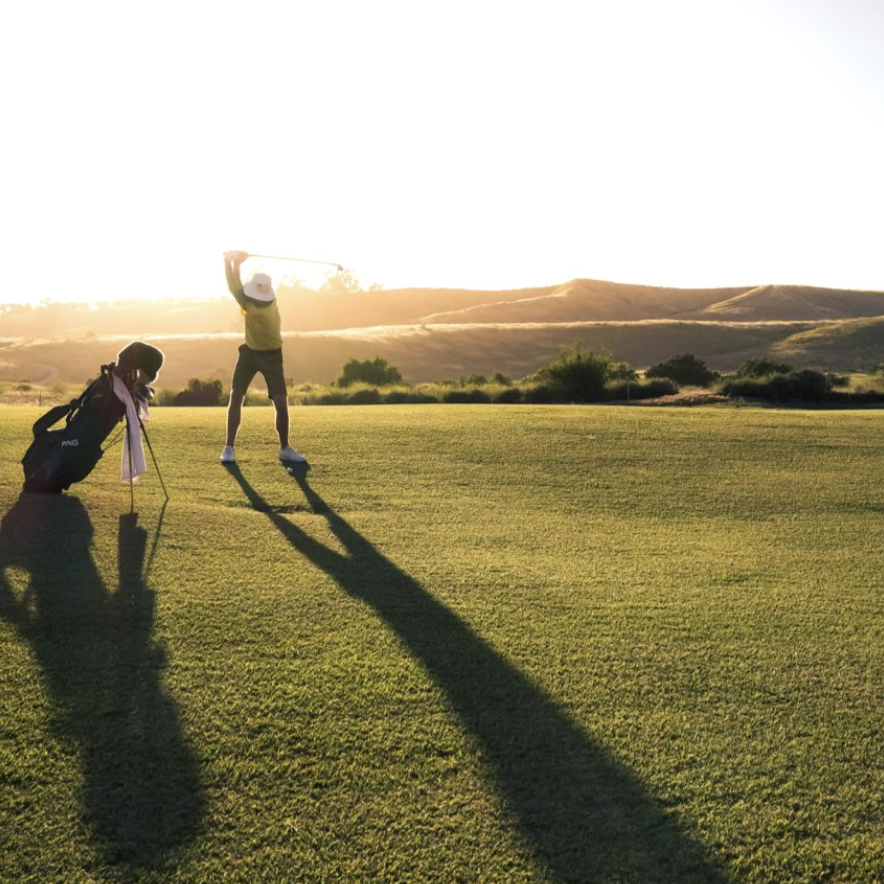 The story behind PrimePutt
I started PrimePutt because, as a Dad and golf nut, I needed to find ways to practice the sport I love with less time on my hands.
So I started practicing putting at home. And I soon realized there wasn't a product out there that lived up to my standards.
The PrimePutt putting mat is everything you need and nothing you don't. Plus - it fits and looks amazing in any home.
We have one primary mission at PrimePutt: encouraging golfers and soon-to-be golfers to do even more of what they love. PrimePutt's tour-quality putting mat gives experienced golfers and beginners alike the ability to play, practice, and enjoy golf year-round. 
You should be spending twice as much time practicing putting as you are on full swings. Putting mats give golfers a way to practice putting in any environment. What good is spending all your time and money practicing if your putting mat gives you little or no feedback to improve your short game? PrimePutt is built to ensure that your at-home practice translates to playing on a course, which means fewer strokes and a lower score.
Here at PrimePutt, we are golfers building for golfers. We have incredibly high standards and won't stop tweaking our putting mat until it's perfect. We also believe that premium products need to have premium service, which is why customer satisfaction is our #1 priority.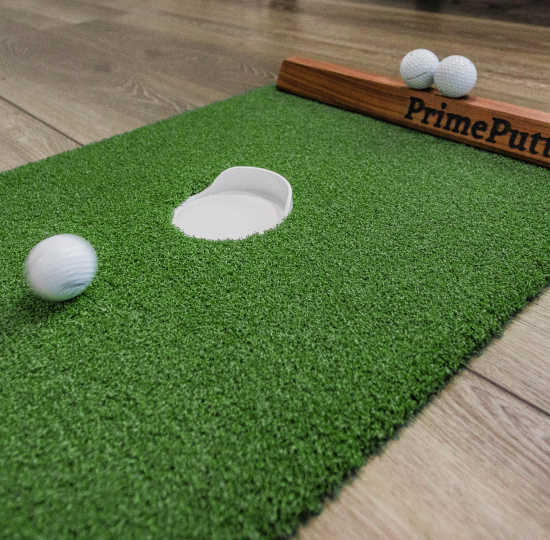 We obsessed over every little detail
It may not look like it, but every single corner, curve, and material choice of the PrimePutt putting mat was painstakingly evaluated, tested, and debated.
We challenged ourselves to make something that looked so simple, yet so elegant.
A glimpse into our design journey
We obsess over the little things because we know that's what matters. Golfers desire performance and quality, but practicing at this level can't always be done indoors. We sought to create impactful and game-changing putting mats for any size room, enabling superior practice at any time of the year.
Our original sketches offer a glimpse into our design journey.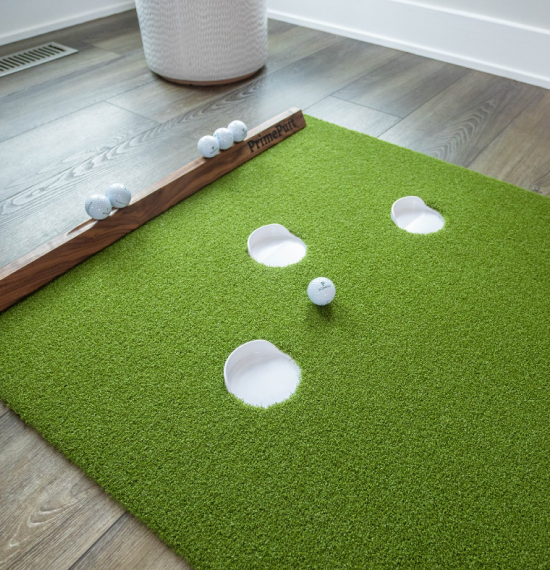 No-block Backstop
We tested numerous angles, heights, shapes, and materials to ensure that a missed putt never bounced back to block your next attempt.
There's nothing more frustrating than having the little things get in the way of practice, and our clever backstop design keeps the mats clear for your next shot.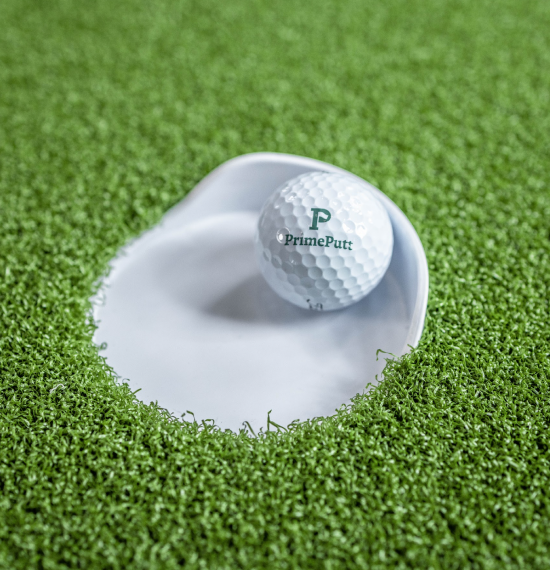 Game-changing Cup Design
We set a goal to design a realistic cup that feels authentic, moves the ball to the back, and allows the mats to sit flush with the ground. After building and tinkering with several prototypes, we engineered the best putting cup in the game.
Improve Your Putting →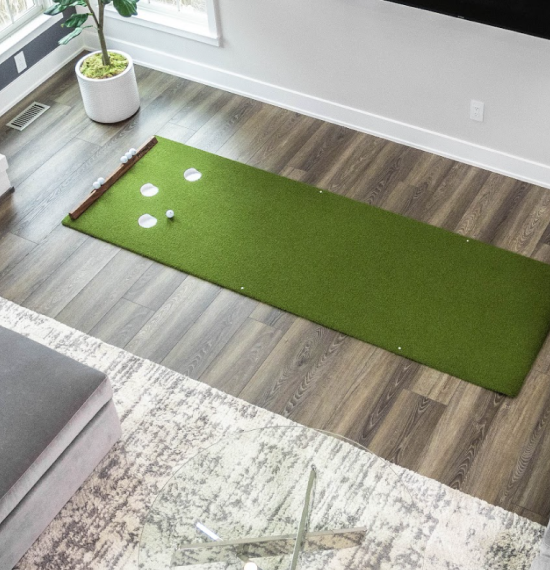 We obsessed over every detail
It may not look like it, but a design this sleek takes a lot of work. We painstakingly evaluated every single corner, curve, and material choice of the PrimePutt putting mat. 
We challenged ourselves to make something that looked simple and elegant without sacrificing performance and authenticity. Our team has spent hundreds of hours coming up with the best indoor putting mat, and we can't wait for you to try it.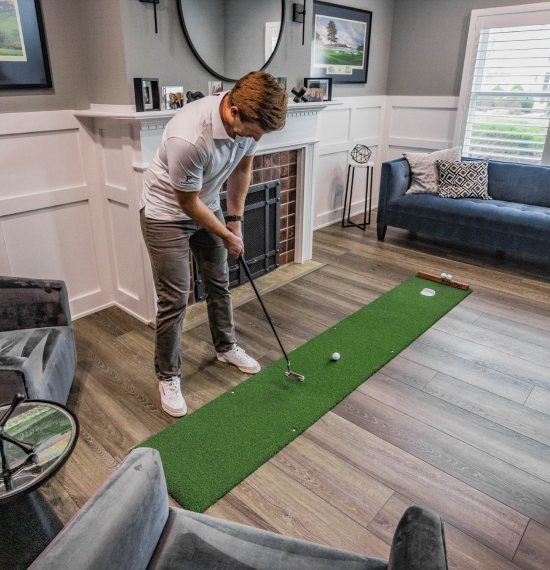 The values that drive everything we do
At PrimePutt, we strive to help everyone do more of what they love. We share your passion for health, fitness, fun, and, of course, golf. We believe our indoor putting mat is the last practice mat you'll ever need.

You can count on the same quality that golf professionals use, and we'll consistently deliver high-touch, white-glove customer service with flawless execution.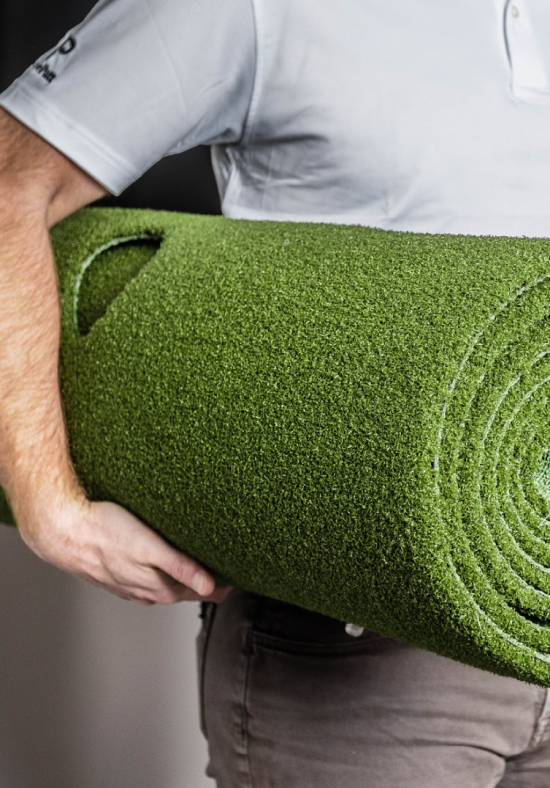 — Trust
A great product means nothing without world-class support. We stand behind our products, and if you're not happy with your PrimePutt product, we provide a money-back guarantee. We understand your time is valuable, and our customer service team will promptly help with any questions or concerns as soon as possible.
— Progress
We believe that our product's value is about more than what's inside the box. Our products represent aspirations, wellness, and self improvement. When we design products, we keep your goals in mind as well and make sure our designs don't get in the way of them, and our customers feel the difference. Golf and other sports bring joy and fulfillment into our lives; for some, it's physical health, while for others, it's improving mental health. We strive to support the things in life that fulfill us and improve our well-being.
— Convenience
We designed our product to work in any size room and on any type of flooring. It takes a few seconds to roll out or stow away, making practicing convenient from practically anywhere. PrimePutt also works outdoors, but be careful exposing it to the elements over long periods of time.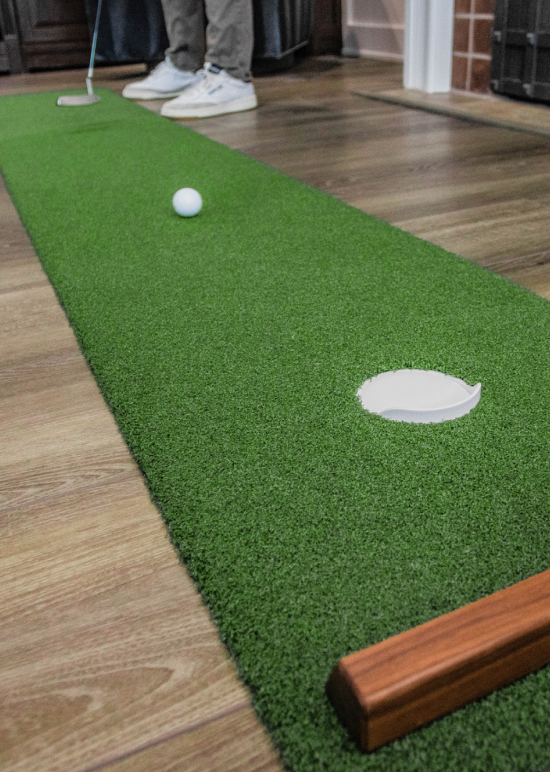 — Creativity
Golf doesn't belong indoors; we had to put our heads together to replicate the feel of an actual putting green without taking shortcuts. We knew we needed something lightweight, durable, easy to maintain, and, most of all, realistic. After extensive strategizing and testing, we developed a high-performing practice mat.
— Innovation
We worked with experts in turf and materials science to make the green as real as possible. Our team made several prototypes, tested different materials, and changed the designs to make the putting mat feel like a real green. Our mats don't just feel right–it'll last and roll true every time.
— Diversity
At our core, we believe that health, wellness, fitness, and sports is not only for those who can afford it. While our products are available at a variety of price points, they are designed for use by golfers of all skill levels and provide long-lasting putting mats. We embody this inclusivity in every touchpoint of our business.
Improve your technique and lower your score from the comfort and convenience of home.