Virtual Swing Analysis by PGA Coach of the Year!
$0.00 USD
Regular price
Sale price
Unit price
per
Limited time offer
As low as $/mo at 0% APR
In stock. Fast and Free Shipping!
PrimePutt has partnered with some of the best teaching pros in America to deliver you on-demand, personalized feedback to help you improve faster and lower scores even more.  Don't practice bad habits.  Get the fixes you need to start making more putts right away. With our On-demand lessons, you get the feedback you need, when you want it.  Each purchase comes with 3 credits for video feedback of your putting stroke from the PrimePutt Pro Staff.
View full details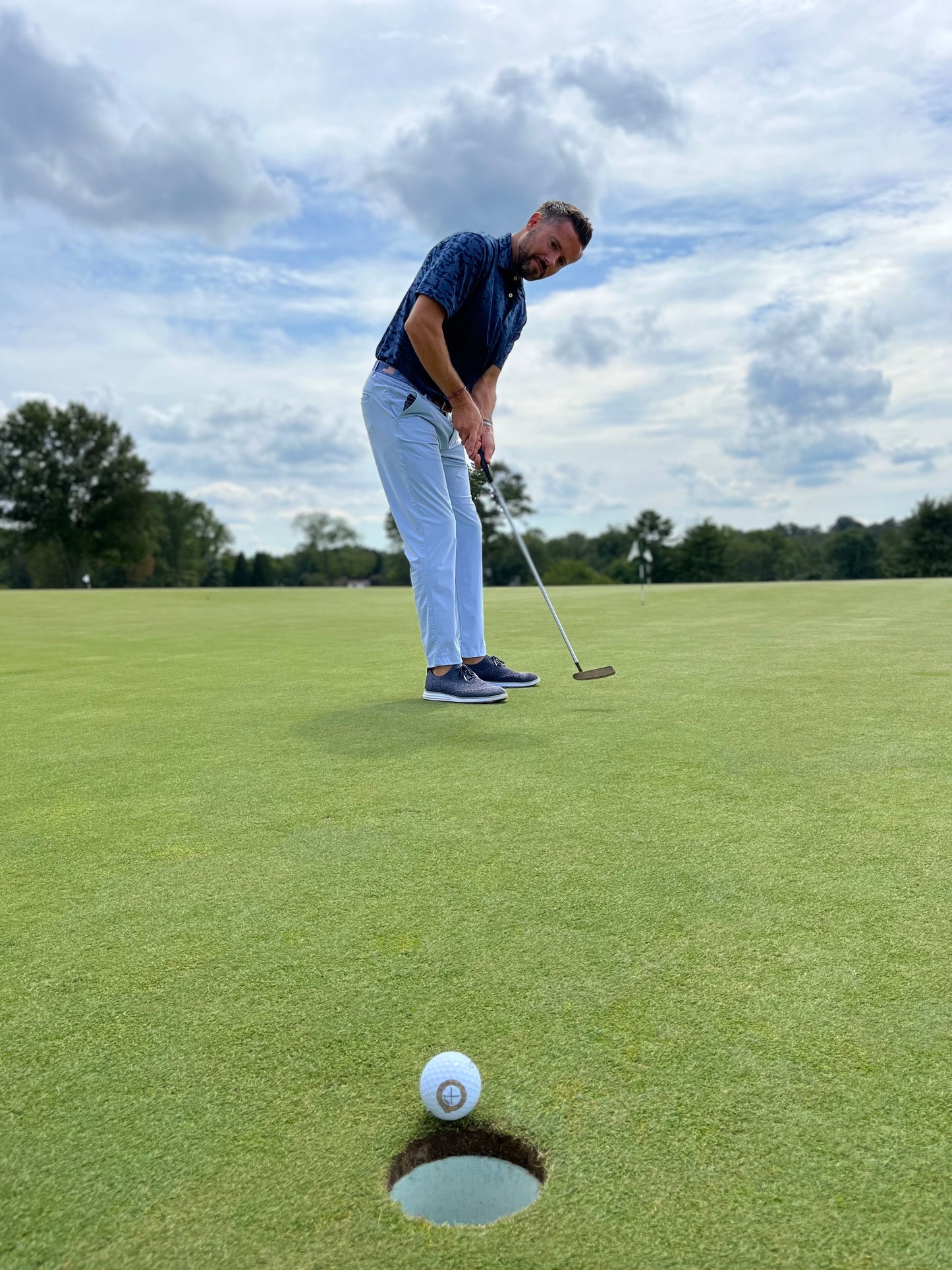 Improve your technique and lower your score from the comfort and convenience of home. 
Durable, tour-grade turf and innovative design creates the most realistic putting mat that seamlessly goes from storage to ready for game-time practice in minutes.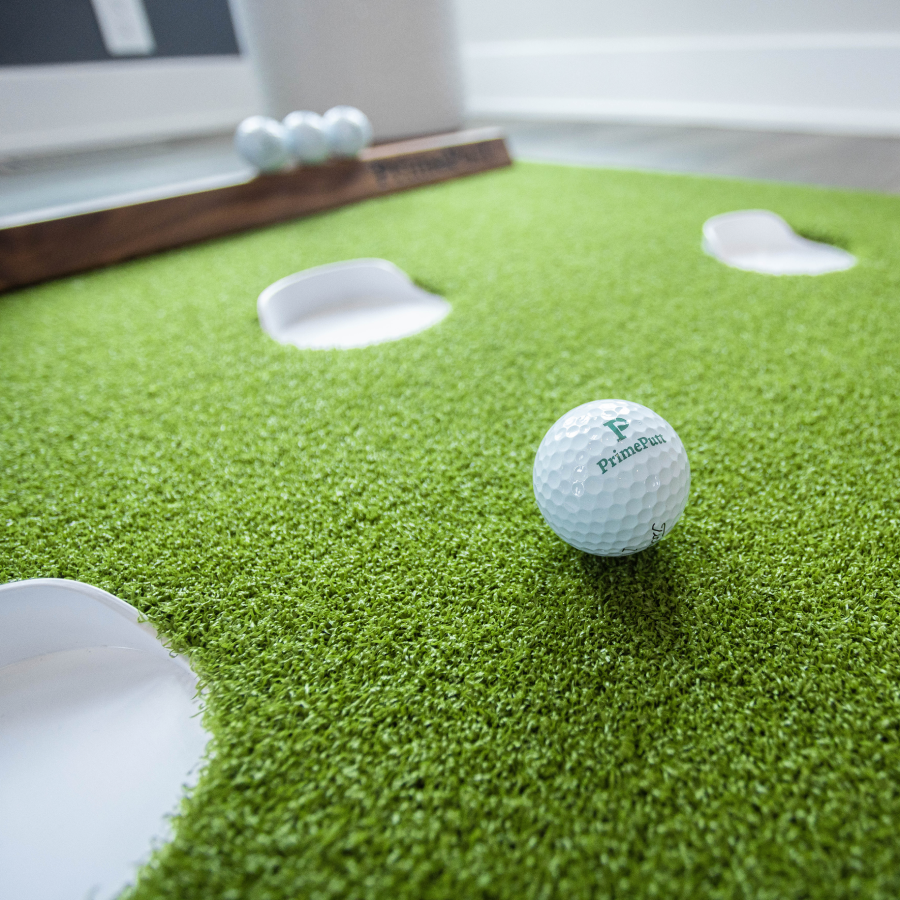 Ultra-realistic Tour-grade turf
Durable, ½" thick turf ensures a true roll on any in-home floor surface and gives the same feedback as an actual putting green.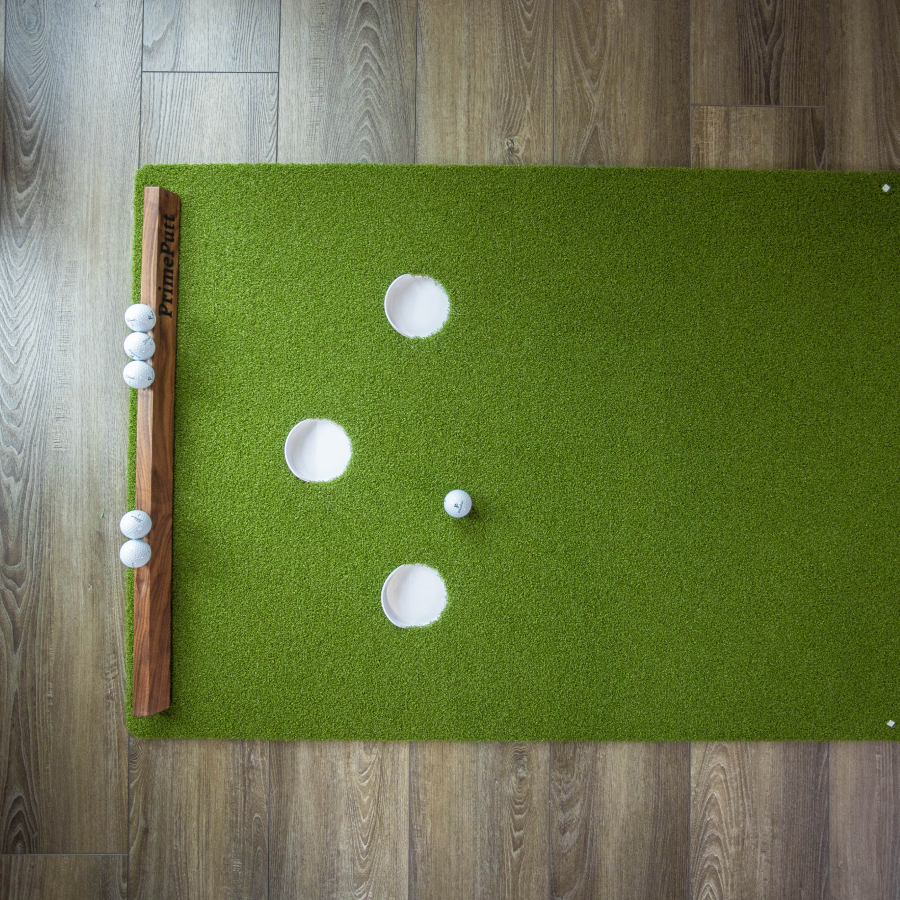 Seamless storage to setup
Intuitive, simple to use design allows setup in minutes. Flexible, no-memory turf material guarantees to lay flat immediately, while making roll-up and storage quick and easy.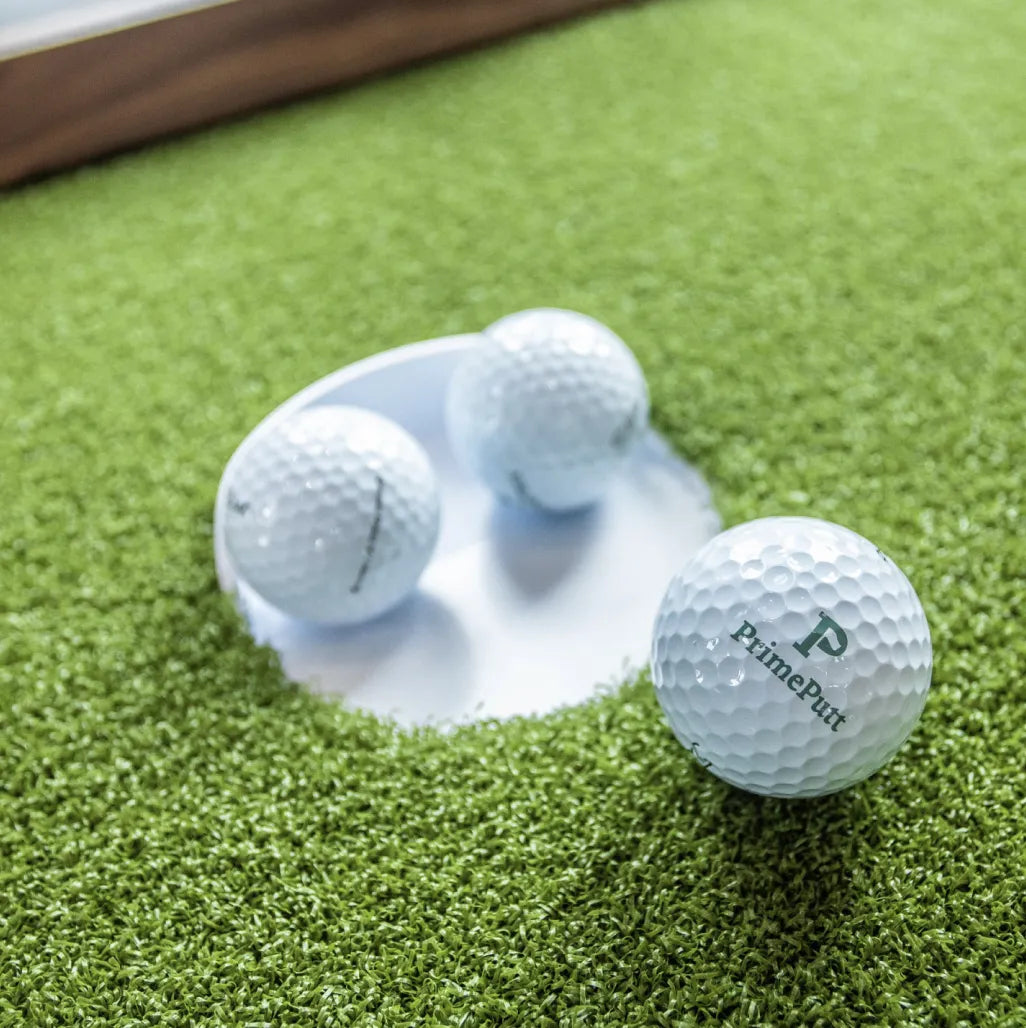 Game-changing cups
Sink up to four putts in a row with game-changing cups made from the same durable plastic used on golf courses. Maximize accurate feedback while minimizing the need for retrieval.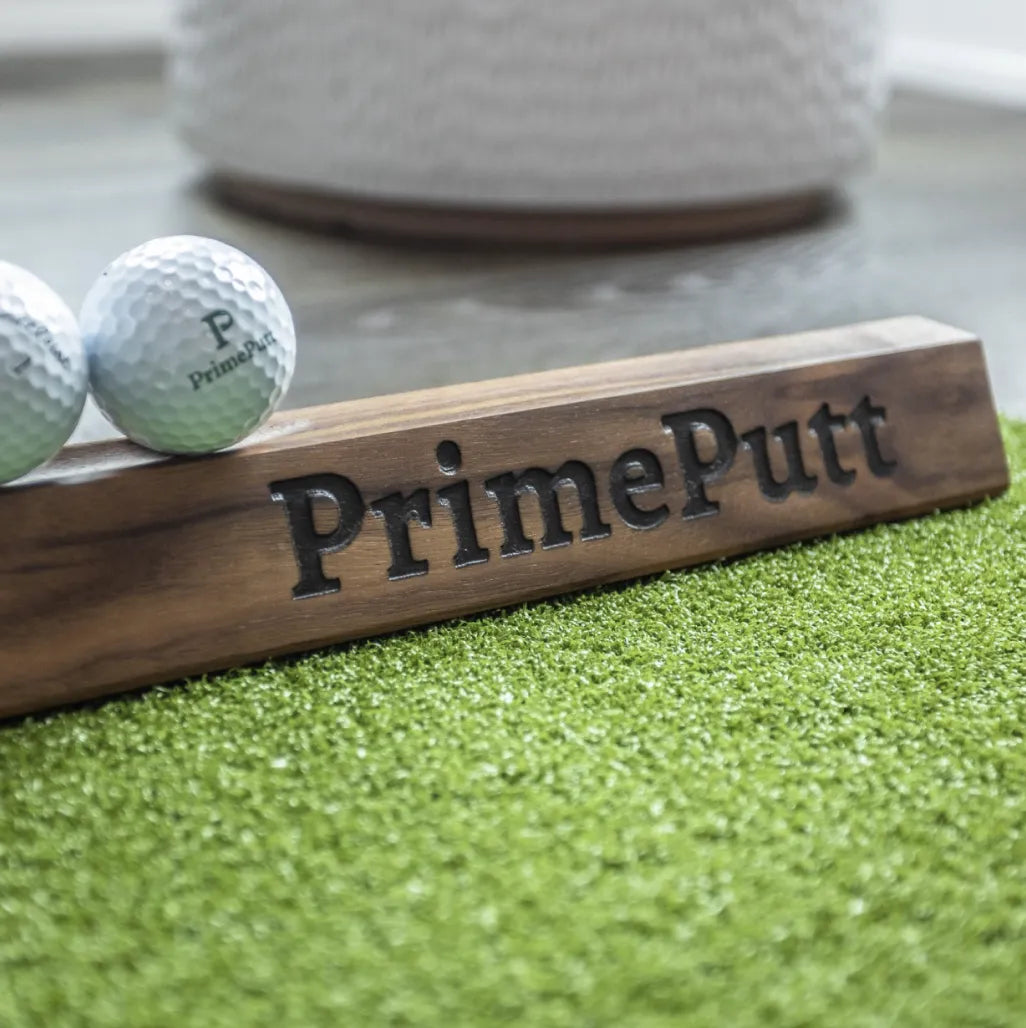 No-block backstop
Engineered at a precise shape, material, and angle to eliminate a ball's rebound and keep missed putts from blocking your next shot.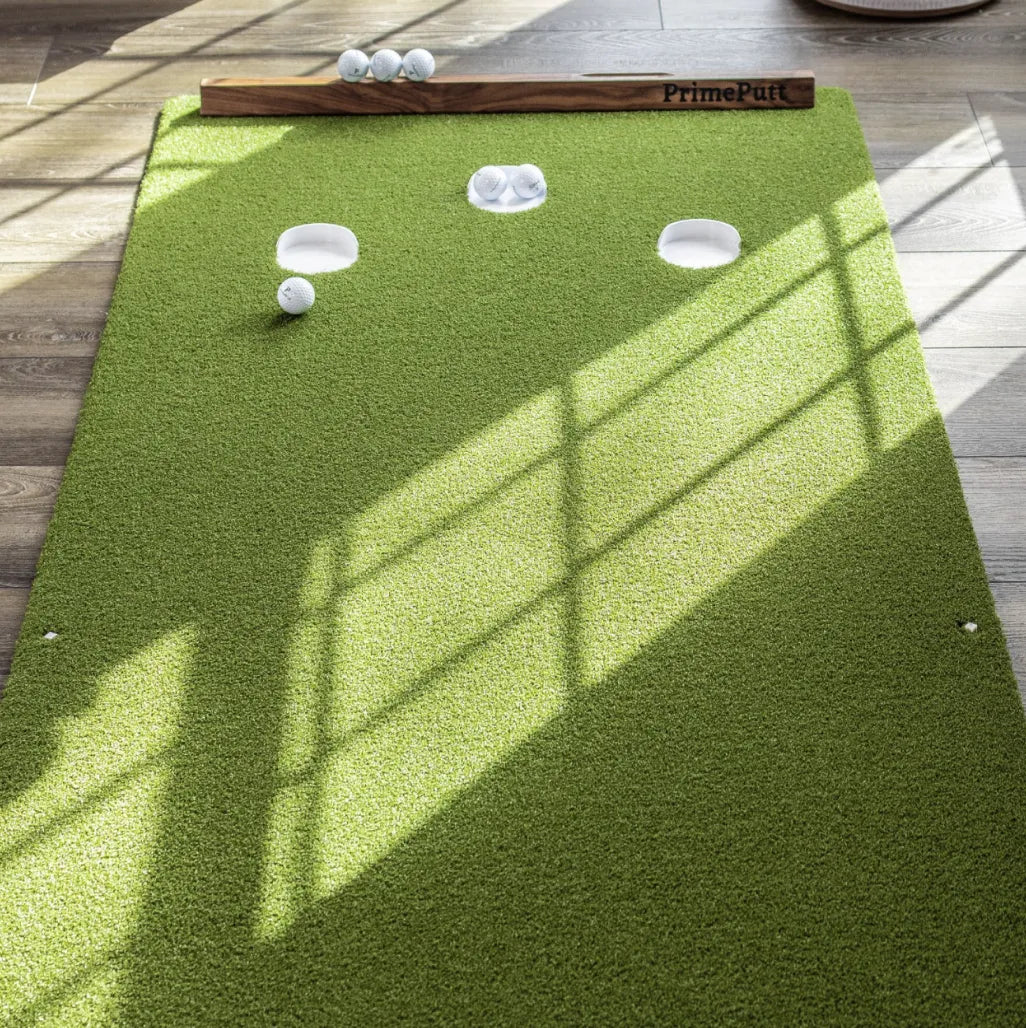 Crafted to last a lifetime
Thoughtfully sourced materials create a mat that has the durability to support daily practice at a level of craftsmanship that pays homage to the heritage of the sport. 
Real practice for the real course
Testimonials from our fans.

Verified customer
05, Oct 2022
"Rolls very good and is a tour speed putting mat."
One of the best I've used.
Matt L.
🇺🇸 South Carolina
Verified customer
14, Sep 2022
"This is by far the best putting mat I've ever used. The material is so realistic."
Throw this putting mat in your house or office and you'll get compliments non-stop. My wife gave me permission to leave this putting mat out because it's so beautiful.

Verified customer
17, Sep 2022
"I will be purchasing this for all the men in my life who love golf!"
Looks beautiful in our family room and it's a perfect conversation starter when we have company. I love the wood accents - incredibly high-end and sleek.
Frequently Asked Questions
How long does it take to get my products?

Domestic shipping can take up to 5 business days. Due to global supply chain challenges, shipping times could be longer than usual.
What is the return policy?

We guarantee you'll be satisfied with our products. If for some reason you aren't, send it back within 30 days of purchasing and we'll refund you at no cost.
What is the PrimePutt putting mat made out of?

We designed our putting greens alongside turf and material science experts to develop a Nylon turf that is the closest imitation of real grass possible.
Is the putting green like putting on real grass?

Yes!  There is nothing closer to real grass. Our putting green design is the same as what's installed in the homes of PGA pros, the offices of the leading golf brands, and in the leading golf retail stores.
How fast does the putting green roll?

Our greens roll at 10-12 on the stimpmeter without the need to brush, vacuum or iron ever.  It rolls true and naturally right out of the box.
How durable are your putting greens?

Unlike others, our putting greens are extremely durable.  Pets, kids, extended use, our putting greens were designed to be used and abused!
Can I use PrimePutt greens outdoors?

Yes!  There is nothing closer to real grass. Our putting green design is the same as what's installed in the homes of PGA pros, the offices of the leading golf brands, and in the leading golf retail stores.
How do I care for my putting green?

Our greens are very low maintenance.  They do not require any standard care to maintain their performance.  It might be good to run a vacuum over them once in a while to remove any dirt or dust but that's not required.
How do I store my putting green?

Our greens roll up and store easily.  Just roll it up with the turf side facing out and it'll lay flat every time. Do not fold your putting mat, this may cause creasing.
Our Promise to You
Highest Quality Standards

Highest Quality Standards (100)

PrimePutt was founded to address a gap in the market for high-quality, realistic putting mats. Our products are created by golfers for golfers, who demand the highest quality out of their putting mats - in order to build the transferable skills needed on the greens. We've spent hundreds of hours building, testing, and observing the products on the market in order to understand the pain points of golfers purchasing a putting mat for various use cases. If you are spending money, you should get the most out of our product.

Money Back Guarantee

We stand by the quality of our product. But we also understand that your needs can change or our product might not be for you and that's ok. We can still be friends! If for any reason you're unsatisfied with your PrimePutt Putting Mat, we will refund 100% of your purchase. We want to support you wherever you are on your golfing journey and if it's not time to integrate a multi-surface putting mat, that's perfectly fine.

World-Class Service

Our customer service team sets us apart. We all understand how frustrating it can be to have unanswered questions or no product support at all. Our team operates Monday to Friday from 9:00 am until 5:00 pm EST to help answer any questions by email, phone or live chat. We know how busy life can be, so we do our best to answer your questions the first time you ask them instead of throwing you on a wild goose chase. We're here to help! 

Free Shipping

The putting mat you choose will vary in price depending on a multitude of factors; the type of surface of the mat, the quality of materials used, portability, or installment of the product. Large cuts of artificial turf - which could replicate a golf course green - can set you back hundreds or even thousands of dollars, which won't include shipping and might not even include delivery depending on the type of building you reside in. We deliver your PrimePutt Putting Mat for free! It's one less thing to think about when making your purchase. 
Benefits of using PrimePutt Putting Mat
Most Realistic Putting Surface

There are many types of indoor putting mats available in the market. They come in different sizes, shapes, and colors. Some mats are made with rubber, felt, foam, or plastic material to make them more durable. 

PrimePutt's putting mats are the closest thing to putting on real grass. We worked with turf and material science professionals to create the most realistic putting mat on par with what can be found at a real golf course. This way anyone can practice putting indoors and simulate the same on-course conditions.
Innovative Cup Design

PrimePutt's indoor putting mat includes an elegant cup for draining putts. With three cups simulating three holes, this golf putting mat with a true roll surface allows you to make more golf balls than your average golf mat. The innovative cup moves any made putts to the back of the cup, clearing the way for your next perfect putt. In addition to this, a one-hole option is coming soon!
No-Block Backstop

Our engineered hardwood backstop guarantees to not only stop long putts from rolling off the back but also to not bounce back or block your next putt so you can keep practicing without losing your concentration. You'll retrieve the golf balls when you're good and ready!
Stay Put Bottom

A lightweight, flexible rubber bottom guarantees to keep the mat in place without bulging or slipping. It's ready to go when you are.
Use What The Pros Use 

If touring golf professionals practice putting on turf, why are many of the putting mats out there made out of carpet, felt, foam, or some other material? PrimePutt's Putting Mats are what the pros use but you don't need to be a pro to practice like the pros! If it's good enough for them, then you deserve to have it too. Our PrimePutt Putting Mat mimics the experience you have on real grass.
Rolls True Every Time

PrimePutt's putting mats are the most durable green out there. They roll true every time with no maintenance required and will hold up to daily use – it's like bringing the putting green home! Our putting mat offers a true roll - the kind you'd get on a real green - with the best textured putting surfaces on the market. Putting mats are a great way to improve your putting game.
Portable And Storable

The PrimePutt Putting Mat weighs approximately 15 pounds so it's easy to roll up, pick up, and move around from the house, office, or room to room in your house. Being so lightweight, virtually anyone can put it away and retrieve it anytime they're ready to practice again. 

This makes it great for the whole family and for entertaining guests. If you don't have a ton of room in your home when you're done practicing or entertaining, you can pack it back up and store it so it doesn't get in the way of your daily activities.
Always Lays Flat

Unlike some turf that can be creased out of the box or when it interacts with heat – or putting mats that are made of felt that wrinkle or slip – PrimePutt lays flat out of the box and will lay flat after every roll-up. Because it comes with its own rubber backing and is meant for multi-surface use, there's no use for additional fuss like infill, tape, or weights to keep it set the way you need it. Unroll, lay it out, practice your short game, then roll it back up and put it away. The next time you need it, it'll be just as good as new.
Key Considerations When Buying an Indoor Putting Mat
Roll

How the ball rolls on the surface of a putting mat is important because the way your putter, ball, and surface interact can affect your whole game. So if you're practicing on a surface that doesn't replicate the real thing, then the skills you learn won't be transferable when you get to the course.
Quality

Felt or other non-turf surfaces could hinder your progress. If you're looking for a putting mat specifically for increasing your skill set, then you need one that replicates a real golf course and produces a true roll.
Size

Our indoor putting mat is a compact 3 ft wide by 9 ft long, fitting any average hallway in homes, apartments, and offices, so easily integrable in any room. It rolls into itself so it's easy to store and does not take up too much room beneath beds, in closets, or in storage compartments. Additional sizes are also coming soon; XL (3 ft wide by 12 ft long), XXL (3 ft wide by 15 ft long), and a Compact version (1.5 ft wide by 9 ft long).
Price

You won't need to spend thousands of dollars at a golf course, or spend a long time being on the waiting list for a country club membership. PrimePutt Putting Mat is for everyone who wants to learn golf without racking up expenses that get in the way of enjoying the game.
Durability

Depending on how eager you are to perfect your putt, you need an indoor putting mat that can keep up with your demand. The golf ball interacts the same way with every swing and won't wear with time. We encourage using PrimePutt Putting Mat for the whole family and we know that it stand the test of kids playing on it.
Portability

A multi-surface indoor and outdoor putting mat shouldn't be cumbersome to take and place where you need it to be. If you install a whole green in your backyard you'd still be subject to weather conditions and will only be able to play in one designated place. But a portable putting mat (one weighing less than 15 pounds at that!), can be easily picked up and placed where it needs to be.
Features

There are many different types of surfaces and designs of putting mats all with the intention to help you improve your game and enjoy your time doing so. While the features may all sound standard, the craftsmanship that goes into each detail can make a world of difference in your experience.
The PrimePutt Scholarship for Golfers is a $1,000 scholarship that's open to all students that play golf, whether it be for their school or because they are simply passionate about it.
Collapsible content
Scholarship Details

Amount: $1,000

Application deadline: January 15, 2023

Winners announcement: February 1, 2023
Eligibility Requirements

Plays golf in any capacity

High school senior, undergraduate student, or graduate student

Current U.S. citizen or permanent legal resident
How to Apply

You can apply for this scholarship on the Bold.org scholarship platform. Simply set up a free account and submit your application for the PrimePutt Scholarship for Golfers, along with a short essay answering the following prompts:

Tell us about your golf journey. 

How did you start playing?

How do you plan to continue to play?

Why is golf important to you?